Xone:96 Send / Return system. Connecting a Boss RV-6 pedal
Option 1; Effect only output (100% wet).
Connect a ¼" (6.35mm) mono (TS) Jack cable from the L/M SND 1 (or SND 2) socket of the mixer, to INPUT B of the Boss RV-6.
Connect a ¼" (6.35mm) mono (TS) Jack cables from OUTPUT A and B of the Boss RV-6 to the RTN A (or RTN B) L/M and R sockets of the mixer.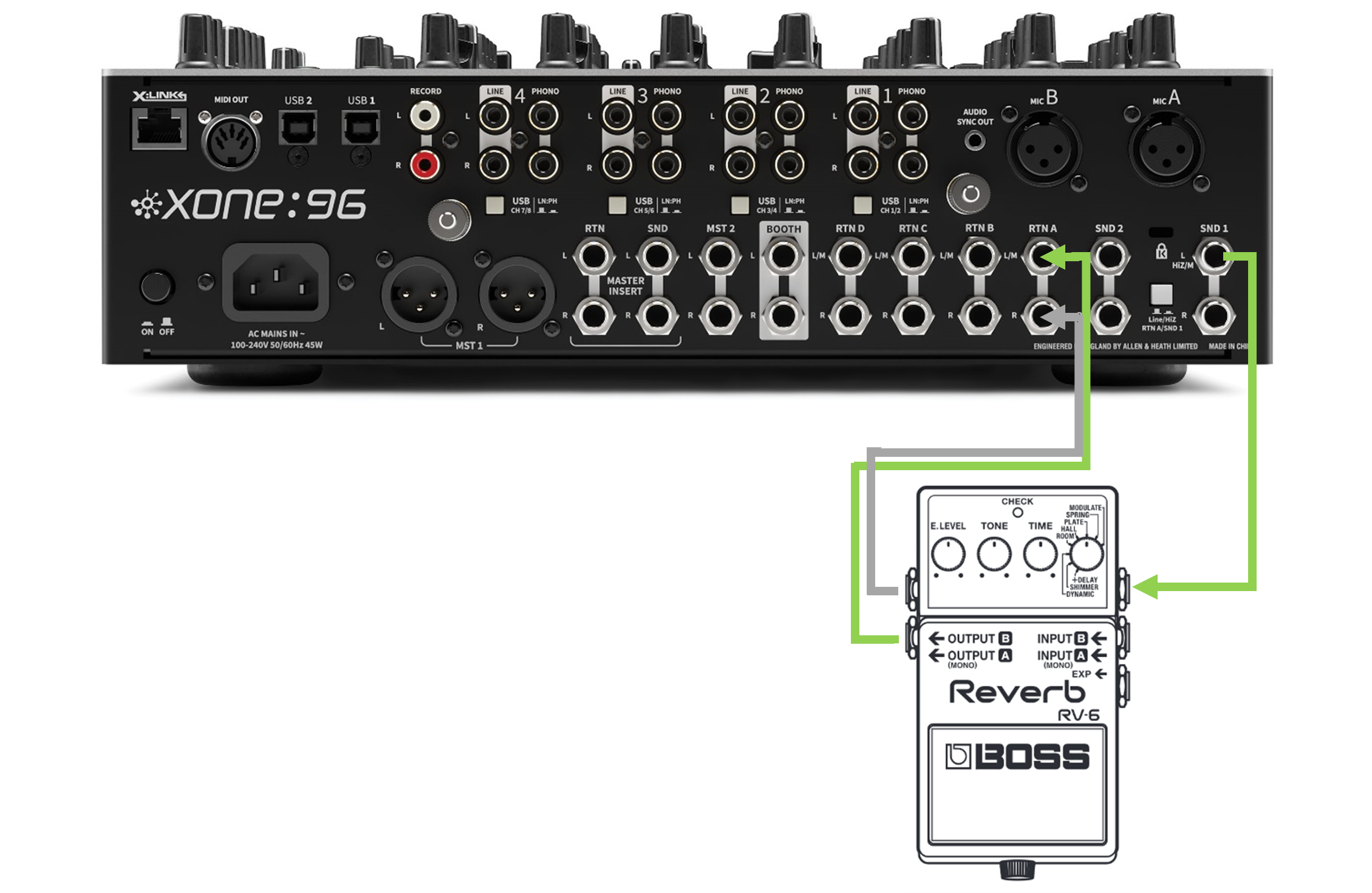 Set the corresponding Xone:96 Input Channel A (or B) source to RTN.
Adjust the mix channel SEND (1), Input Channel A (or B) GAIN controls for unity gain, with the E.LEVEL pedal control set to max.
Set the mix Channel SEND (1) Pre/Post-Fade switch (UP) to Post-Fade.
Use the channel SEND controls to adjust the audio sent to the FX pedal and Input Channel A (or B) fader to balance the FX output level with the main mix.
NOTES:
A variety of different outputs can be achieved by changing how the connections to the RV-6 are made.
When connected as described above, the output of the RV-6 is the effect signal only (100% wet).
No direct (dry) signal is output by the pedal.
Output from OUTPUT A and OUTPUT B are muted when the effect pedal is off.
SEND 1 can be se to pre- or post-fade for each channel (as desired).
Post-fade is typically used for Sends to effects devices, but interesting creative results can also be achieved by sending pre-fade signal to a reverb unit.