Please read all of this before you begin.
The way to get this to work would be by use of the web updater.
Download the firmware you wish to have installed to your computer from
https://www.allen-heath.com/dlive-home/software/
Once downloaded unzip the folder and remember its location.
Make sure your MixRack is not connected to your Surface.
You will need to know the IP address of your MixRack, if you do not know the IP address you should perform a network reset, as follows
On the front panel next to the network sockets is a small hole.
With the MixRack off you should get something thin (like an unfolded paper clip) and push the small switch inside.
While continuing to hold the switch, turn on the rack. Keep holding until 10 seconds after the ready light comes on.
Your IP settings will now be
Address 192.168.1.70
Subnet 255.255.255.0
Gateway 192.168.1.254
Turn your MixRack off.
You will now need to set a jumper switch on the inside of the rack.
If you have a DM rack this is inside the second PSU slot on the right hand side while looking at the front of the rack, if you have a CDM rack it is inside port 1. Take the cover off or remove any card that is fitted.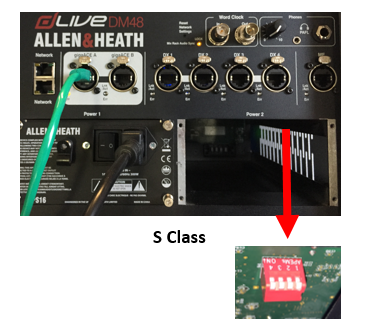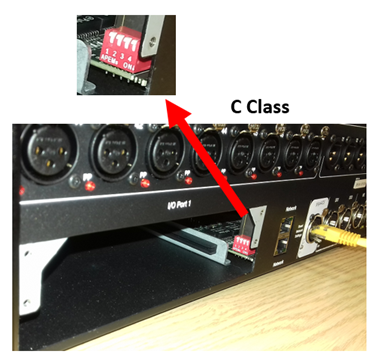 Just inside there is a little red bit of plastic with 4 microswitches. Please be aware that on the DM rack the switches are fitted upside down (as shown in the image above).
Set switch 3 to on. Then restart the MixRack.
Make sure your MixRack is disconnected from your Surface.
Connect your MixRack to the computer onto which you downloaded the firmware. Your computer will need to be manually configured to have a static compatible IP address and the same subnet.
Open a web browser and type 192.168.1.70 (or the known IP address if you did not do a network reset).
This will connect to the rack and show the updater page. It will also show the currently loaded firmware.
Click on choose file and navigate to the downloaded unzipped folder.
You need to choose the file called Firmware.tar.xz in the folder path AllenHeath-dLive>Firmware>TLD-MixRackFirmware>Firmware.tar.xz
It will then say 'Ready to update'. Press Update.
Let it finish, the last part will say MixRack restarting. After it finishes it will look like it did when you first opened it asking you to choose a file, except that it will now display the new firmware version.
Disconnect your computer from the MixRack.
Now switch off your MixRack and set the internal jumper switch 3 back to off.
You can now either reinsert your card or put the I/O port cover back on or replace your second PSU.
Start your dLive Surface. As it is not connected to a MixRack it will end up on a screen called 'Surface Connection to MixRack Failed'.
Make sure your Surface has an IP address compatible with your MixRack IP address - you can do it from this screen be pressing Network Settings.
Insert your firmware USB drive and press Firmware in the top right, then press Update and then choose Yes.
If you have v1.90 or later the screen will say Waiting for MixRack Firmware Status. After a few seconds you will see a splash screen that says Failed to Receive MixRack Firmware Status. Press OK.
Press Update.
Follow it through and this will update the surface only.
When it is complete you will be back at the screen called 'Surface Connection to MixRack Failed'.
Now connect your surface to your MixRack using the GigaACE connection.
Switch on your MixRack.
Press Restart, then press Yes.
After about 30 seconds they should now be connected.
For more information about console operation please look at the firmware reference guide available at
https://www.allen-heath.com/media/dLive-Firmware-Reference-Guide-V1.9_2.pdf