To perform a full system reset, hold the EQ 'In' and 'HF' keys when powering on the SQ.
This will clear all mix settings and all saved data, including Shows/Scenes and Libraries, and will revert the SQ to its initial state. Before you carry out a system reset, back-up any data you wish to keep using a USB device or SQ-MixPad.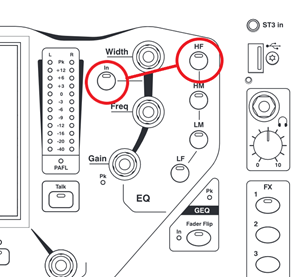 The system reset:
Resets all current settings - the same as using the Scenes screen 'Reset Mix Settings' button.

Resets non-scene parameters and user preferences to a factory default.

Clears scene recall Safes and Filters.

Clears all memories including Scenes, User Libraries and User Permissions.

Resets the Network IP address and the touch screen and fader calibration.

Does not remove optional add-ons.