The metering featured on the SQ features a multi-colour LED with variable brightness per channel and a separate peak LED, giving a new way to visually monitor levels. A good way to explain it is viewing a traditional 12 stage LED meter on its end. The fully editable metering allows you to change the settings to your preference, which is great for users who are colour blind or have a preference to what colours are used. By default, the colours mimic the characteristics of a traditional meter.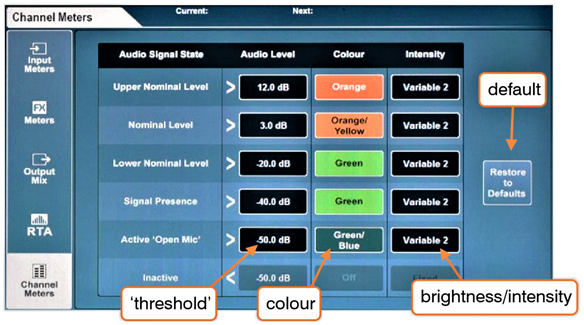 Audio Signal state – An explanation of the level's 'range'
Audio Level – The threshold between colours, select a value and use the screen encoder to change.
Colour – Tap a colour and scroll with the screen encoder to change.
Intensity – Choose between Fixed, Variable 1, or Variable 2 to change the brightness characteristics.
These settings can be found in Meters > Channel meters. To restore to default settings, press the Restore to Defaults key in the Channel meters tab.
The diagram below is an illustrative example of how Chromatic Channel Metering (CCM) works, and some possible configurations.