Before you begin:
Your DT Expanders must be on firmware version 1.0.5 or above.
Your SQ Firmware must be on version 1.4.1 or above.
Getting Started with SQ and Dante
1 – Your Dante Card
A Dante Card gives you the freedom to connect to other Dante Devices or to record via Dante Virtual Soundcard directly onto your PC/MacBook.
To set up your Dante Card:
Insert your Dante Card into the Optional I/O Card port.

Go to Set Up à Audio Sync à Set to Internal Clock Source.
2- Dante Controller and Dante Virtual Soundcard
Dante Controller allows you to control your transmitters and receivers for patching the inputs and outputs of Dante Devices for live or installation use, as well as the option to personalise the ID of Dante Devices that you are using.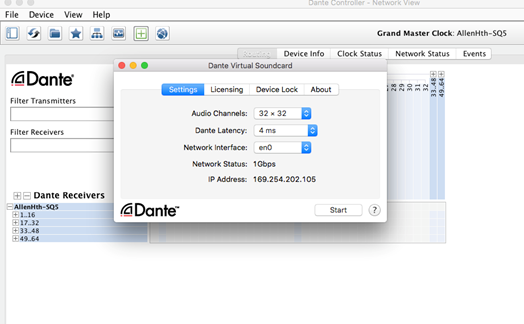 You can also use Dante Virtual Soundcard if recording into a DAW, allowing you to set the required number of audio channels.
There are two methods in which you can use Dante Controller with your Dante Card and Dante Devices.
1 – Connect a Cat5 cable from the primary port on your Dante Card to your PC/Mac. You can then use Dante Controller to set direct control of your inputs and outputs according to your SQ set up for recording. In Dante Controller, make sure you set the desk as the preferred master and select 'sync to external clock source'. You can then set up Dante Virtual Soundcard and record into a DAW such as Tracks Live, Pro Tools or Logic X etc.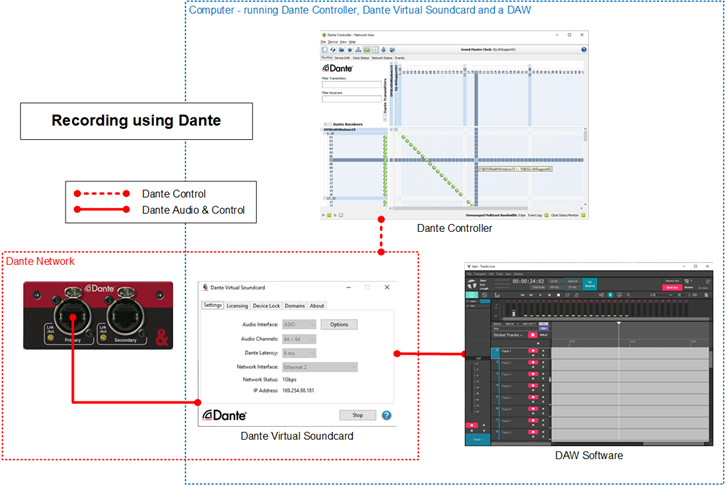 2 – Connect an unmanaged switch to your PC/Mac using a Cat5 cable. Then using another Cat5 cable, connect your Dante Card via the primary port to another port on your unmanaged switch.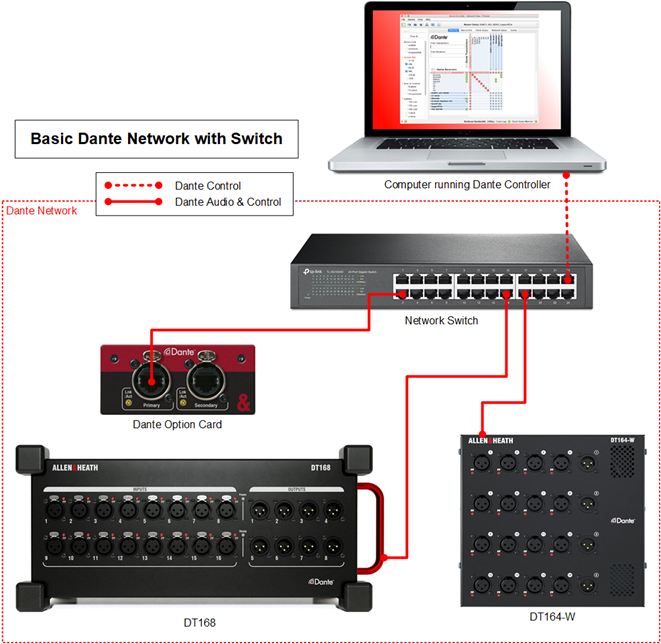 3- Dante Devices – DT164W & DT168
These devices have 16 xlr inputs and either 4 or 8 xlr outputs, as well as Primary and Secondary Dante Ports. For more detailed information about these devices please go to allen-heath.com/everything-io/.
To set up your Dante Devices:
- Using the Primary network port on the Dante Device, connect a Cat5 cable to the unmanaged switch. This will carry a direct network and audio signal in and out of Dante Controller, allowing you control of preamp gain, 48V and Pads.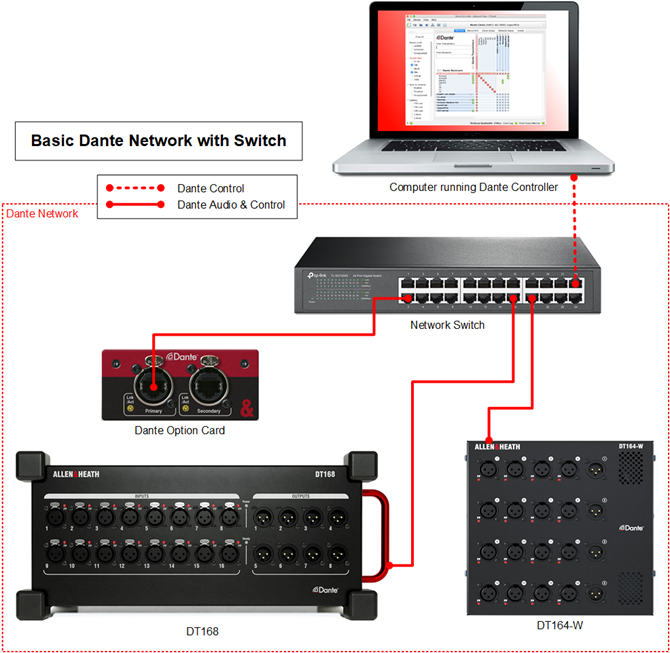 – Using the Secondary network port on the Dante Device, connect a Cat5 cable to the unmanaged switch for the device to be set to redundant mode in Dante Controller. You can also use the secondary port with a Cat 5 cable to link directly via the secondary port of the Dante Card in the desk in switched mode.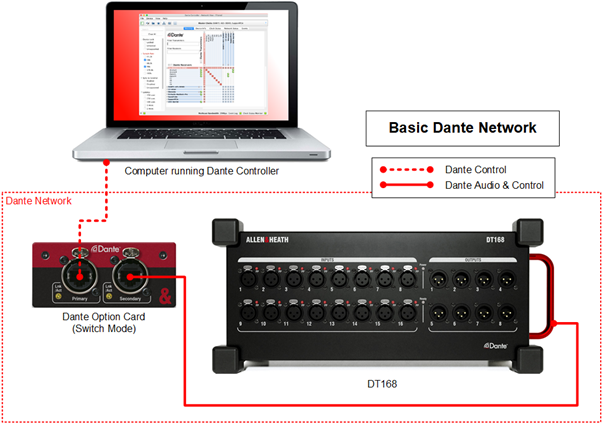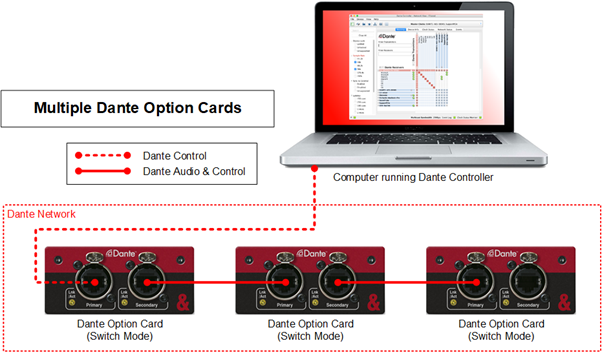 4- Dante Domain Manager
In DDM, you can create domains for different Dante devices. For example, if you have multiple conference rooms running the same audio but only one SQ, you can put this SQ and the Dante Devices that are in the different conference rooms into one domain, so that they are all running the same audio consistently. Those that are left in the unmanaged domain, e.g. a hired SQ for a wedding band in a separate part of the hotel can continue to run without being interrupted.
*We do not currently support reboots whilst using DDM or with DDM running in the background.