*Before you start, make sure that your SQ firmware is version 1.4.3 or above.
Moving from analogue to AES – DX012 & DX32
The DX012 has 12 analogue line outputs on XLR, with the option to switch the last 8 sockets to stereo AES outputs. This is compatible when using the SLink port or a SLink option card in the IO Port of the SQ. For more detailed information on the DX012 please go to https://www.allen-heath.com/everything-io/.
The DX012 analogue outputs are likely to be used in scenarios such as bands with a large amount of stereo IEMs, allowing you to easily add to the built-in outputs and match the number of sockets to the 12 stereo mixes available.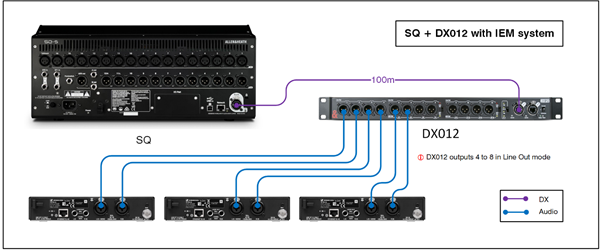 The DX012 AES Outputs are likely to be used in any scenario where a digital feed or recording is required. You can use this for any output send, an example of this is sending the main LR mix to digital speaker management units.

Whilst the DX012 is output only, the DX32 is a modular rack and can be used for up to 32 inputs, 32 outputs, or any combination of these using the 4 x 8 channel slots available. Digital AES modules mean it could be used for up to 16 stereo AES inputs or 16 stereo AES outputs. 8 channel analogue input and output modules are also available. Any combination of 4 AES or analogue modules can be used in one DX32 and will be instantly recognised by the console. For more information on this please see https://www.allen-heath.com/everything-io/.
Combining analogue and AES together…
An advantage of using the DX32, is that you can combine analogue inputs and outputs with AES inputs and outputs at the same time when patching on the SQ. Analogue XLR cables connect the outputs of the DX32 to some IEM transmitters, whilst the analogue input can be used to connect mic or line level inputs via XLR. AES connections can be used to connect digital broadcast feeds at the same time. On the I/O Page, the SQ shows the available inputs and/or outputs provided by the combination of DX32 modules you've installed.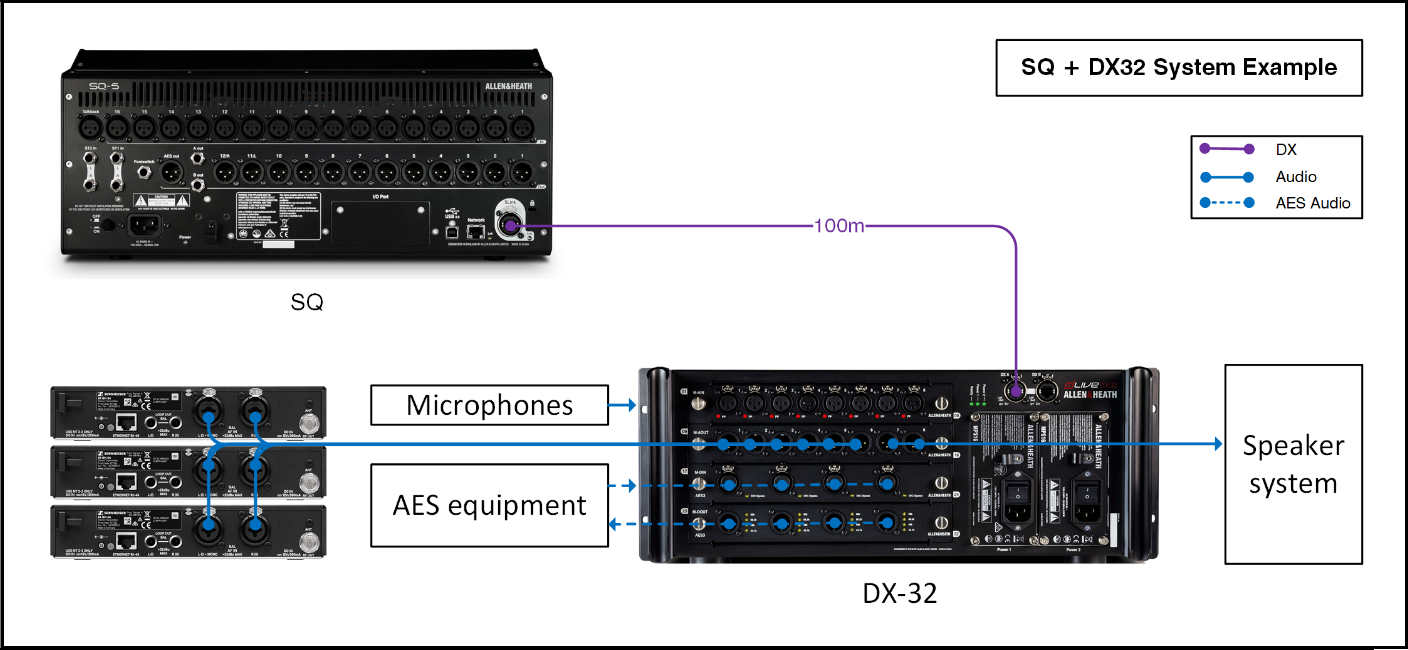 Further Expansion…
For multipurpose use, you could expand this set up further using two SLink ports, one being the built in SLink port and the other being a SLink card in the Surface I/O Port. For example, you may have a live conference that is also being broadcast digitally across the internet. In this scenario, having the DX32 connected via Cat 5 to the built in SLink port gives you the option of using the analogue inputs for microphones and analogue outs for an Active PA System or IEM transmitters. You could then use the DX012 for its 16 AES outputs for live broadcast feeds.