SD and microSD cards are a common choice for media storage - they're inexpensive, small enough to carry a few around and usually feature high data transfer speeds and can be a great option for audio recording and playback with Qu-Drive or SQ-Drive.
Both Qu-Drive and SQ-Drive use hardware solutions to connect to USB storage devices, so there are no 'drivers' as you would find in a computer or laptop.
Not all USB storage devices are created equal and the hardware used to bridge between the device and actual storage (especially in USB sticks/keys) is often changed by manufacturers without notice, making it almost impossible to know exactly what you're getting and whether there will be any compatibility issues with your console, even if you purchase the same make and model every time.
SD and microSD cards on the other hand are far more consistent in the technology they use, and also include markings to let you know class and read/write speeds.
This makes it much easier to find and purchase reliable storage meaning hardware compatibility will be mostly dependent your adapter setup (which can be reused!).
So to use SD card storage with your Qu or SQ, you just need to use the same, compatible SD card adaptor each time.
It is then much easier to source and purchase compatible SD cards as and when required.
SD and microSD cards
The read/write speed required to record or playback high quality audio using Qu-Drive or SQ-Drive are relatively small at only around 5MB/s, but this bandwidth must be consistently available and not just the top speed that the card can achieve with short bursts of data.
As a minimum, we recommend sourcing Class 10 SD storage, with at least UHS speed class 1, to guarantee minimum write speeds of 10MB/s.
These should be easy to source from retailers and include the following markings:


(higher speed cards are available and will also work, though the benefit of this extra speed will be when transferring data from the device to a computer)
The maximum record time is based on the FAT32 file system used, which allows for multitrack recordings of around 8hrs (48kHz Qu/SQ) or 4hrs (96kHz SQ). This will take up approximately 72GB of storage space.
Adaptors
You may only need a straightforward full size SD card to USB-A adaptor: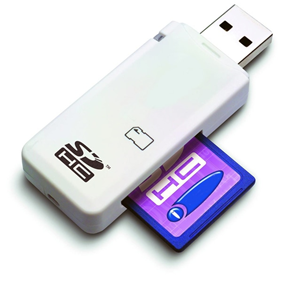 Depending on which side the SD card slot is, the SD card itself may extend over (and block) the headphone port, a simple solution to which is a short USB-A male-to-female extension cable.
Full sized SD card to USB adaptors can also be used with micro SD to SD card adaptors, though these are not recommended as during testing (below) we found they can reduce read/write speeds.
Another option is to use a direct micro SD to USB adaptor, some of which are very small, barely protruding from the socket when inserted: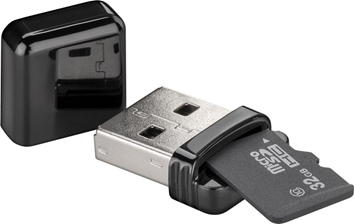 Whichever adaptor is used, just like the SD storage itself, it must be able to provide a consistent read/write speed of above 5MB/s, with 10MB/s or higher recommended.
Checking performance and preparing before use
Before use, the SD storage may need to be formatted to a FAT file system using a computer. This should allow the mixer to 'see' the storage.
Then format the storage again using the mixer to ensure the FAT32 file system is being used and that the correct folder structure is created.
Then to test for use as Qu-Drive:
Use the SigGen to send a sine signal at 0dB to the main LR mix

Patch 'LR L' to at least the first 18 USB Audio channels

Run a multitrack Qu-Drive recording for as long as you wish to test for (max is approx 8hrs/72GB)

Periodically check for errors on the Qu-Drive multitrack screen, these will occur if the data was not able to be written successfully
Or for SQ-Drive:
Set USB Sample Rate to 96kHz

Use the SigGen to send a sine signal at 0dB to any mix or input channel

Patch this channel to the first 16 USB outputs

Run a SQ-Drive multitrack recording for as long as you wish to test for (max is approx 4hrs/72GB)

The USB Record Load meter on the SQ-Drive Multitrack screen will show the performance of your SD card/adaptor setup, if the meter peaks, an error will occur and be counted due to lost data
A suitable SD card/adaptor setup should not show any errors after recording for the maximum amount of time.
Our testing
| | | | | | | | |
| --- | --- | --- | --- | --- | --- | --- | --- |
| USB SD Card Reader | | SD Card | micro SD to SD adaptor used | USB extension required | Initial detection and recording check | 4hr multitrack recording check | Notes |
| Integral | + | MicroSD Sandisk Ultra 64GB | YES | YES | FAIL | | |
| Integral | + | MicroSD Sandisk Extreme 64GB | YES | YES | FAIL | | |
| | | | | | | | |
| Beikell | + | MicroSD Sandisk Ultra 64GB | NO | NO | PASS | PASS | |
| Beikell | + | MicroSD Sandisk Ultra 64GB | YES | YES | FAIL | | |
| Beikell | + | MicroSD Sandisk Extreme 64GB | NO | NO | PASS | PASS | |
| Beikell | + | MicroSD Pioneer 32GB | NO | NO | PASS | | |
| Beikell | + | SD Prograde 64GB | N/A | YES | PASS | | Requires reconnection after formatting |
| Beikell | + | SD Adata V90 64GB | N/A | YES | PASS | | Requires reconnection after formatting |
| | | | | | | | |
| Not Branded | + | MicroSD Sandisk Ultra 64GB | YES | YES | FAIL | | Issues with SD Card Adaptor |
| Not Branded | + | MicroSD Sandisk Ultra 64GB | NO | NO | PASS | PASS | |
| Not Branded | + | MicroSD Sandisk Extreme 64GB | YES | YES | PASS | | |
| Not Branded | + | MicroSD Pioneer 32GB | YES | YES | PASS | PASS | |
| Not Branded | + | SD Prograde 64GB | N/A | YES | PASS | | |
| Not Branded | + | SD Adata V90 64GB | N/A | YES | PASS | PASS | |
| | | | | | | | |
| Vanja | + | MicroSD Sandisk Ultra 64GB | NO | NO | PASS | PASS | |
| Vanja | + | MicroSD Sandisk Extreme 64GB | NO | NO | PASS | PASS | |
| Vanja | + | MicroSD Pioneer 32GB | NO | NO | PASS | PASS | |
| | | | | | | | |
| Uni | + | MicroSD Sandisk Ultra 64GB | NO | NO | FAIL | | |
| Uni | + | MicroSD Sandisk Extreme 64GB | NO | NO | FAIL | | |
| Uni | + | MicroSD Pioneer 32GB | NO | NO | FAIL | | |