A common problem seen when setting up paging is how to maintain a constant paging level when the user has control of the volume in the room they are working in.
Imagine a hall has an IP1 Controller and that the two functions on the rotary control are set to change the source and to set the level of the Zone. If the user lowers the level of the Zone to turn the music down then the paging will also appear lower as it is subject to the Zone level output.
A suggested solution to this issue is outlined below. We will assume that you have some stereo inputs as your different music sources to choose, but mono sources will work equally well.
You can assign each of your stereo inputs to each of your halls in the source selector for each zone.
Now name a Control Group for each hall and assign it to control the Crosspoint of the playback input channels to the zone, but not the pager mic to the zone. To do this go to Assign>Control Groups and select the Crosspoint radio button and choose the Control group for the correct hall. Then select the Crosspoint in the grid.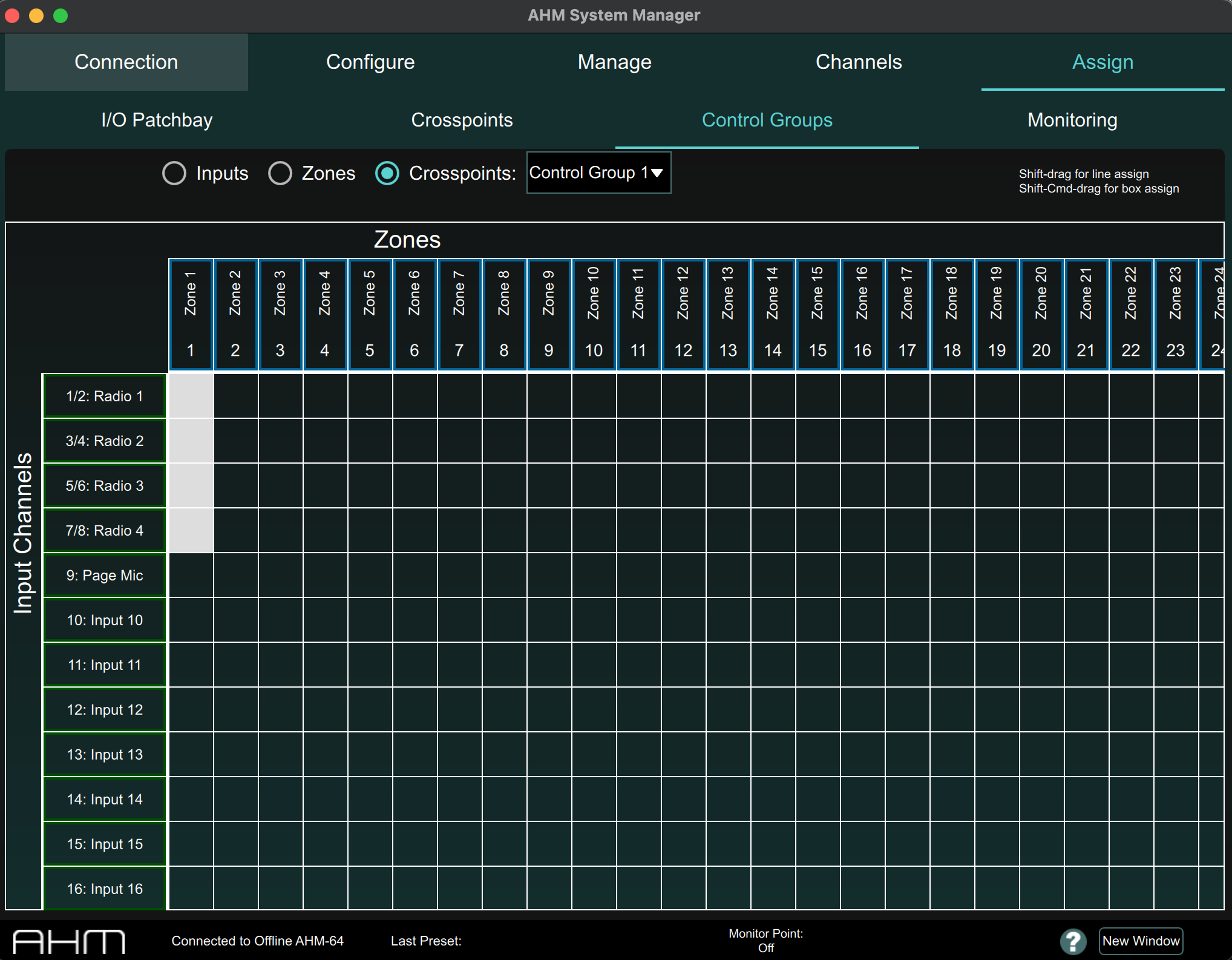 Each IP1 can then be set to control the source select for its Zone on the shift function and the Control Group level for the Zone Crosspoint on the main function.
Because the main function is controlling the Crosspoint control group it will have no effect on the input level and therefore not affect the other halls.
Then, because the Crosspoint level is being controlled at the IP1 instead of the Zone level, the Zone level will remain constant for use with the pager.

Now you can set your paging mic to talk to the halls and can set their individual levels to each hall. This level will remain constant, regardless of the level of the music set in the hall. You can even use the priority input to duck the level in each hall from the source selector by assigning the paging mic to the priority input and setting the ducker accordingly.
The room with the paging mic will need an IP controller with a button on it in order to activate the function, or you can use a paging mic connected to a GPI input.